The Listiac reflections carried out within our initial teacher education (ITE) and among our future teachers pointed to some possibilities of improvement regarding their preparedness. In fact, some of the weaknesses expressed by our student teachers were their lack of training (regarding resources, tools, strategies and experience), their lack of culture and languages knowledge, and their lack of good examples (during the internship period, for example) (see Llompart & Moore, 2020, for a more detailed description).
In order to work towards offering the example, the resources and the experience, our local team initiated a collaboration with the social entity Casa Asia, and more specifically with their project AFEX, Aprenem famílies en xarxa ('We learn as networked families'; Project of Casa Asia and FAPAES, and with the support of Ajuntament de Barcelona, Generalitat de Catalunya and GREIP Research Group).
This is a community Service-Learning project aims at promoting the inclusion of culturally and linguistically diverse people who live in Catalonia, through the teaching of Catalan, Spanish and basic computing "in a context where dialogue and positive intercultural and intergenerational interaction are key tools to reinforce social cohesion" (Casa Asia, 2018, p.2).
Our research team (GREIP) has been actively collaborating in this project for almost three years and we have observed the AFEX program's potential in promoting linguistically and culturally sensitive teaching and learning. In fact, one of the key agents in this program are the young migrant origin teachers who deploy several plurilingual strategies during their teaching practice in order to help the adult plurilingual students to access the new language. For instance, these migrant origin teachers use some of the home languages of the adult students in order to facilitate and scaffold the learning of Catalan and/or Spanish. These linguistically sensitive teaching strategies – together with other sensitivities that the youth deploy – seem to be very relevant for teaching in diverse contexts.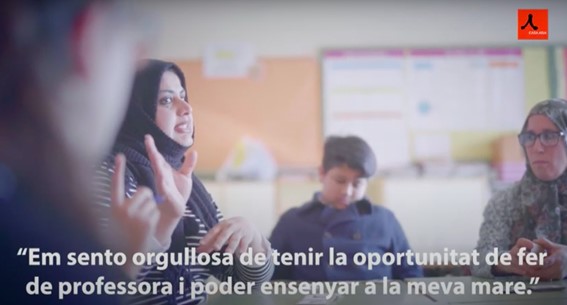 Our objective with this collaboration is to connect non-formal educational contexts, such as the AFEX program, with future educators in our ITE program within the framework of Service-Learning. This collaboration has been fruitful in two main areas for our ITE:
1) On the one hand, it has allowed our student teachers to observe a Service-Learning project which promotes social justice in highly diverse environments, as well as to identify the possibilities of using plurilingual resources – or allowing their use – in order to support the learning of new languages.
2) On the other hand, as we have mentioned before, migrant origin youth who act as teachers are key agents in the AFEX program. In our context, there is a growing number of migrant origin student teachers who seem to approach diversity in a different manner (see Llompart & Birello, 2021). This collaboration has helped to value even more the role of these student teachers and the different competences that they might have regarding conducting a linguistically sensitive teaching. Moreover, it has been detected that those student teachers with a diverse background might have experienced some situation that could be turned into a helpful tool for their future profession.